This year's C2E2 Chicago Comic-Con is drawing to a close. Here are the biggest announcements Marvel made at the show!
New Hawkeye On-Going Series
#1
Marvel announced that their most popular archer (Sorry, Kate), would be getting his own on-going series again! Matt Fraction and David Aja will be collaborating their skills for the book - in their first team-up since their run on Immortal Iron Fist.
The idea behind the book hinges on how the Avenger lives his life when not around his numerous teammates and allies.
"HAWKEYE is more about what inspires Clint Barton," Fraction explains, "We got Clint in Avengers, Secret Avengers, and anywhere else at any given time - but we wanted HAWKEYE to be about what Clint does when he's not at work, about what drives the guy."
"He's got some stuff coming up in [Avengers vs. X-Men] and afterwards he's in a place where he's gotta figure out what he's doing with himself and why. What moves him, what's meaningful for him."
#2
It was also announced that the Young Avengers' Hawkeye, Kate Bishop would feature in the book:
"She's his junior partner, his apprentice," says Fraction. "It's a very Avengers relationship - meaning Steed and Peel - and she's as adrift as he is. What the hell are these two doing with their lives? Turns out, helping people is what they have to do to get through the night. In costume, in life, doesn't matter. Good guys don't punch a time card at 5:00."
Aja went on to explain that his art for this book will be more iconic, and more cartoony than his previous work claiming, "Less is more." He also explained that while some other familiar heroes will appear, the focus will be almost entirely on Clint and Kate.
HAWKEYE #1 is going to be out this August! It's on our pull list already!
New Gambit On-Going Series
Hawkeye isn't the only one getting his own series. The X-Men's Gambit is also breaking out.
Earlier this month we posted a teaser with Gambit's name on it, and it turns out it was for this - A new ongoing book written by James Asmus (Generation Hope), and Clay Mann (Magneto: Not A Hero). Cover art for #1 below:
Sabretooth to return in Wolverine Arc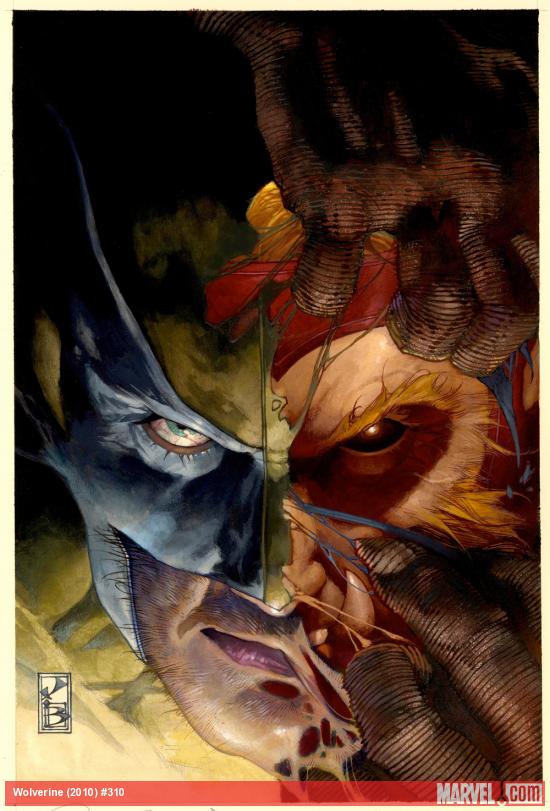 Back in 2007 in the "Evolution" storyline, arguably Wolverine's greatest foe, Sabretooth, was killed off. Now - 5 years later - he's found his way back to the world of the living and will be causing Wolverine all kinds of trouble in July's Wolverine #310, which starts the story arc - "Sabretooth Reborn."
The arc will be handled by Jeph Loeb and Simone Bianchi (who both worked on "Evolution"), and aims to tie up any lose ends left from "Evolution." And as if Sabretooth wasn't enough, Wolverine will also be up against the mysterious Romulus who has been pulling both Logan and Sabretooth's strings for years. This could be one hell of a story.
New Ultimate Comics Event Teased
Marvel announced that Brian Michael Bendis, Sam Humphries and Brian Wood, will collaborate on "Divided We Fall," a new event due to take place in the pages of Ultimate Comics Spider-Man, Ultimate Comics Ultimates, and Ultimate Comics X-Men this summer.
Not many details were given but there was a tease in the form of a cover for Ultimate Comics Ultimates #13 (below):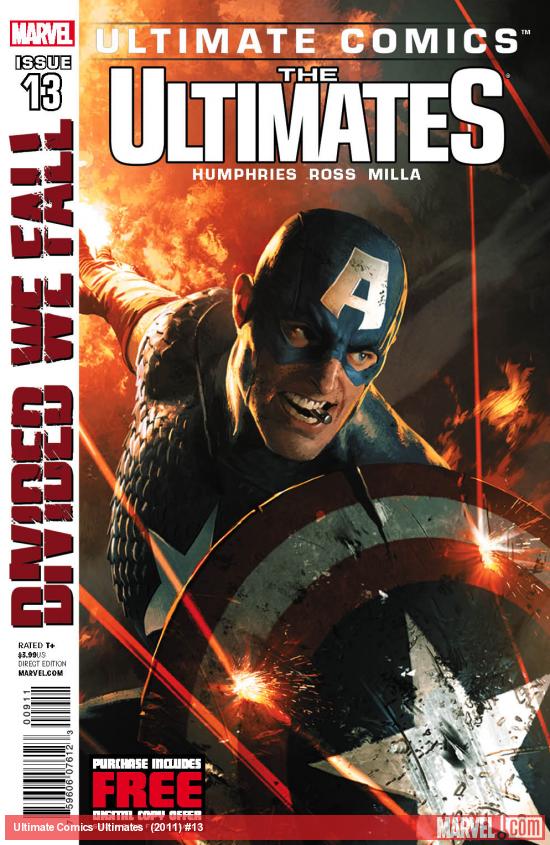 The Mighty Thor and Journey Into Mystery Crossover
Marvel announced a new seven-part story taking place in the pages of Journey Into Mystery, and The Mighty Thor. Entitled "Everything Burns" it involves Thor and Loki working together to save the Nine Realms!
It will be handled by
Matt Fraction, Kieron Gillen, Alan Davis and Carmine di Giandomenico.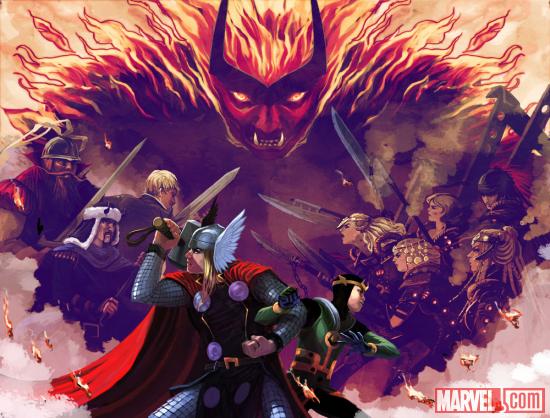 Carnage to Return in Minimum Carnage
Marvel announced a new book entitled Minimum Carnage. Now that Carnage USA is over (it was awesome), what's the next move for the most insane villain of the Marvel Universe? No details yet, apart from the image below - but don't worry - we'll keep you updated on this one...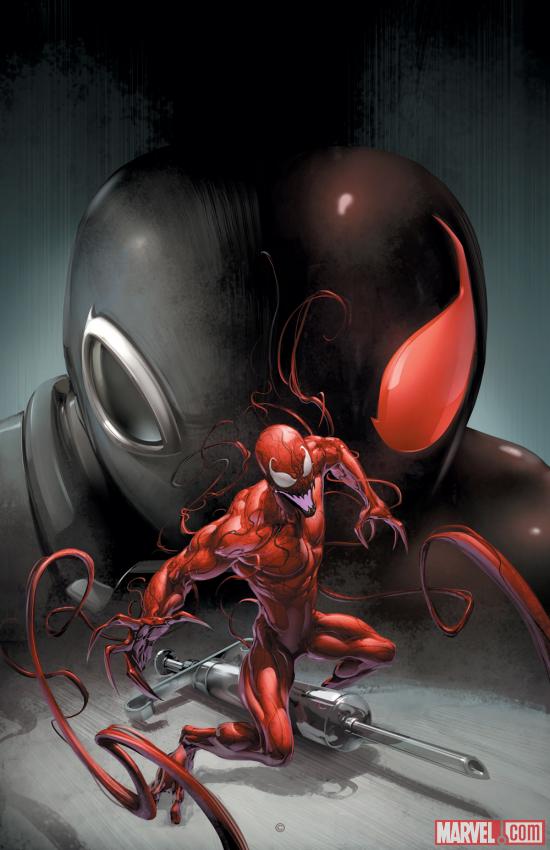 Those were our biggest Marvel stories of C2E2! Stay tuned for DC's biggest news!